Our itinerary with estimated departure and arrival times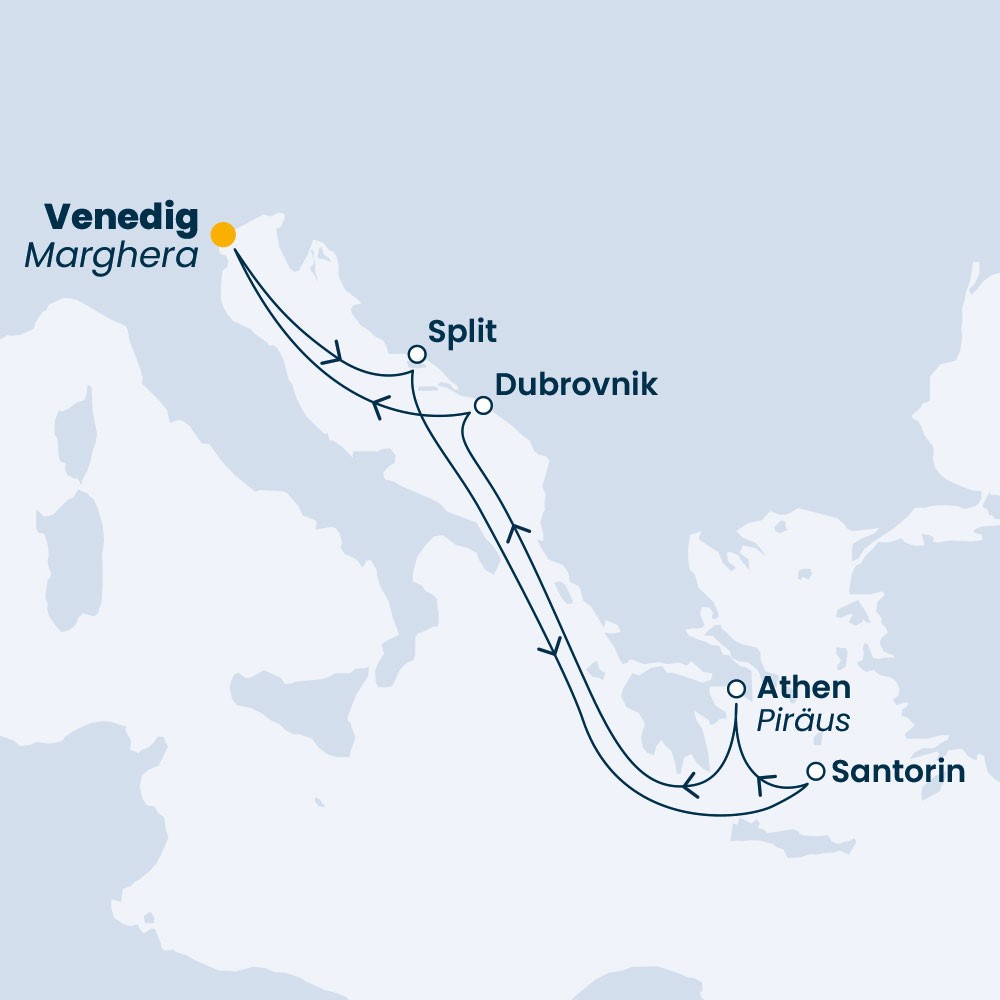 | Date | Harbour | Country/Destination | Arrival | Departure |
| --- | --- | --- | --- | --- |
| 30.09.2023 | Marghera | Italy | - | 17:00 o´clock |
| 01.10.2023 | Split | Croatia | 08:00 o´clock | 17:00 o´clock |
| 02.10.2023 | Sea day | - | - | - |
| 03.10.2023 | Santorin / Thira | Greece | 09:00 o´clock | 19:00 o´clock |
| 04.10.2023 | Athen / Piraeus | Greece | 07:00 o´clock | 18:00 o´clock |
| 05.10.2023 | Sea day | - | - | - |
| 06.10.2023 | Dubrovnik | Croatia | 07:00 o´clock | 15:00 o´clock |
| 07.10.2023 | Marghera | Italy | 10:00 o´clock | - |
Our included services on board the Costa Deliziosa
Ship passage according to the tender
Accommodation in the booked cabin category
Full board on board with numerous meals throughout the day such as breakfast, lunch, afternoon snacks, dinner and much more.
Tips
German-speaking support on board by the ATeams travel service
Numerous top-class entertainment shows
Complimentary use of onboard leisure facilities and swimming pools
Exclusive Firebirds experience program with concerts, dance events, dance workshops, parties, fashion & styling events
Not included in the cruise price are: shore excursions, beverage packages (except balcony cabins and suites), personal expenses, hairdresser, spa treatments, insurance, medical treatments, travel to and from the port
The whole Cruise in Details
30.09.2023
Day 1
Arrival to Marghera
After your individual journey to the ship, the motto on this day is: "Welcome to the Costa Deliziosa and cast off!"... Around 5 p.m. we will leave the harbour close to Vencie for our big rock'n'roll cruise with numerous musical guests on board. Check-in Welcome dinner and welcome on board.
01.10.2023
Day 2
Split
The old town on the eastern Adriatic coast in Dalmatia has been a UNESCO World Heritage Site since 1979. The heart of the second largest city in Croatia beats within the walls of the 1500-year-old Diocletian's Palace. The palm-lined promenade in front of the Imperial Palace offers a single panorama.
02.10.2023
Day 3
Day at sea
After the first impressions of Split you can now enjoy a wonderful day at sea. Chat with the onboard hosts, dance to boogie-woogie music during dance workshops, get your hair done by vintage fashion stylists, or enjoy the variety of show entertainment onboard.
03.10.2023
Day 4
Santorin
Enjoy entering the port of Santorini! Here a cliff rises up to 350m above sea level. Thanks to its unique setting, the port of Thira is certainly one of the most beautiful in the Mediterranean. The ascent to the plateau, the black beaches of the island, the picturesque narrow streets, the radiant white of the houses and the fantastic view of the Aegean remain unforgettable.
05.10.2023
Day 6
Day at sea
Surely you have already been able to enjoy unforgettable impressions in the last few days. Our dance professionals taught you many new steps and figures and we were able to celebrate our concerts together. Today's day at sea is again: workshops on boogie-woogie music, styling by our vintage fashion professionals and other entertainment shows.
Let's rock it!
Experience an unforgettable evening with our stars.
07.10.2023
Day 8
Arrival in Marghera near Venice
Around 8 a.m. we reach our port of departure again. After breakfast, disembarkation takes place and we say goodbye. The return journey takes place individually according to your booking.
See you soon and ship ahoy!